HERE THE RESULT!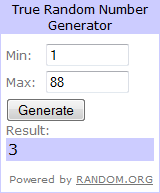 Congrats to
miu333
! You have won a drawing request from me!
Please note me the references of you character within
Today
or as soon as possible ~
NOTE: I will draw couples, OCs and some fan arts (No mechanics, nudity, muscle man, some animals or monsters)
For anyone who didn't win, don't be worry, there will be next time!
Thank you for participating!
Hello everyone~! It's a few days left before Valentine's day

I decided to make something special for my watchers to thanks for all the supports!
So feel free to join ~



HOW TO ENTER:

You must be my watcher (I'll be glad if you watch me because of my art, not my raffle =A=")


You have to favorite OR comment on this journal (So I will know that you are alive)


PRIZE:

The winner will received 1 drawing request from me (Maximum: 2 characters)


I will choose the winner from my watcher list with RANDOM.ORG


DEADLINE:

13 February 2014 (0.00 AM. of Thailand)